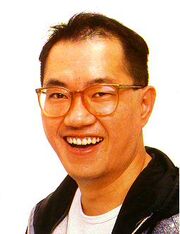 Akira Toriyama (鳥山 明, Toriyama Akira?, born on April 5, 1955) in Kiyosu, Aichi, Japan, is an acclaimed Japanese manga artist known mostly for his creation of the Dragon Ball series in 1984.
Biography
[
]
Toriyama debuted in 1979 with the story Wonder Island, published in Weekly Shonen Jump, and first gained popularity for the anime and manga series Dr. Slump, originally serialized weekly in Shonen Jump from 1980 to 1984. In 1982, he won the Shogakukan Manga Award for Dr. Slump for best shōnen or shōjo manga series of the year.
In 1984, Toriyama was responsible for developing Dragon Ball which was initially serialized in Weekly Shonen Jump. It became an instant accomplishment—primarily selling over 35,000,000 copies in Japan and eventually became a record-breaking bestseller with over 120,000,000 copies sold.
Toriyama is mostly acknowledged for his major hit Dragon Ball. This work was one of the linchpins for what is accepted as the Golden Age of Jump. Its success encouraged Toriyama to continue working on Dragon Ball from 1984 to 1995. During that eleven-year period, he produced 519 chapters, collected into 42 volumes, with each volume averaging 200 pages. The manga was also adapted into three anime adaptations, numerous feature-length animated movies, several video games, and mega-merchandising. The third anime adaptation, Dragon Ball GT, was not based on his manga; however, Toriyama was still involved in the project by supervising its production, although in a limited way.
Toriyama has also designed characters for Enix's and Square's games, such as the Dragon Quest series. He designed the characters in Chrono Trigger, though he did not return for Radical Dreamers: Nusumenai Hōseki or Chrono Cross.
Many of the game developers appear in a special ending of Chrono Trigger. Each one is outfitted with their own dialogue, location, and sprite.